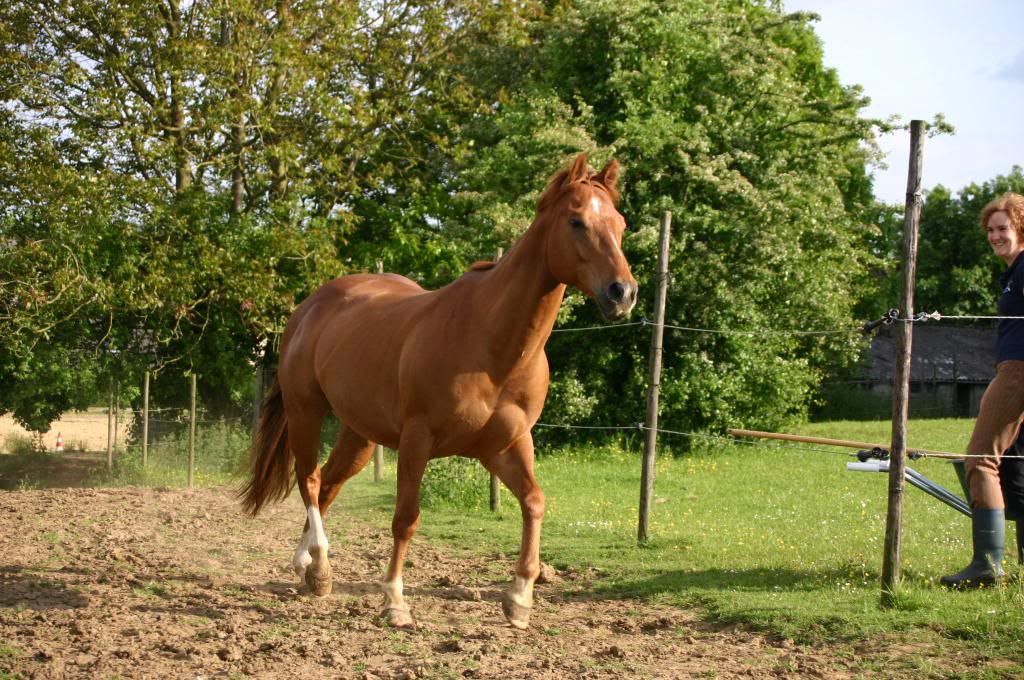 This is the way Beau likes to hold his head, it is indeed as you say his brachiocephalicus that is bulging. The thing I am worried about is that because this is a posture he has had for so many years he will go back to it so much that he will never develop a good topline. He holds his head like this when playing in the pasture or at any given time, he is so used to being tense that he uses the same muscles over and over again.
I tend to look at myself, I have always had a bad posture myself and I know how difficult it is to walk straight and I can do it when someone always corrects me, but will easily fall into the same posture over and over again.
I can ride Beau without contact, he will then stretch all the way to the ground and lean on his front legs with a lot of weight. It's that or having his head high in the air. I have been trying to get this better for 6 years and am only seeing the growth of muscle in his topline since I began riding with contact.
What do I do when he pulls his head up when I'm on the ground? I close my fist and therefore there is some pressure on his nose and he lowers his head again... I have been thinking about how I could teach him a cue to have his head low, but when we are in "action" he forgets to look at that and concentrates on where his legs need to be.
When he was 4 he could do some terre a terre and even a little piaffe, but always very tense. I decided not to ask those exercises again untill he was stronger, it took me a long time to get them out, he is very responsive to the images I have in my head and he wants to work very hard for me... which leads to him doing to much...
I will pay attention to imagining his neck being in the shape I want, now that I am writing this I know this might help!
I will try to take all your advice with me and will slowely keep practicing.
The nice thing about Beau is that he always wants to do things for me, but I know from when he was younger that he likes to have a feeling of contact, if not physical then mental, I don't think he will be feeling akward of there not being reins, we do try to do as much as we can using body language... I just have some trouble sometimes with him being so flexible and fast while riding, I have always trained him to react to small body cues and that makes it quite the challenge for me now, being balanced all the time
Thanks for the advice, I still feel a little like I'm drowning... but I at least have an idea of how to swim
Big hugs
Barbara