Site Admin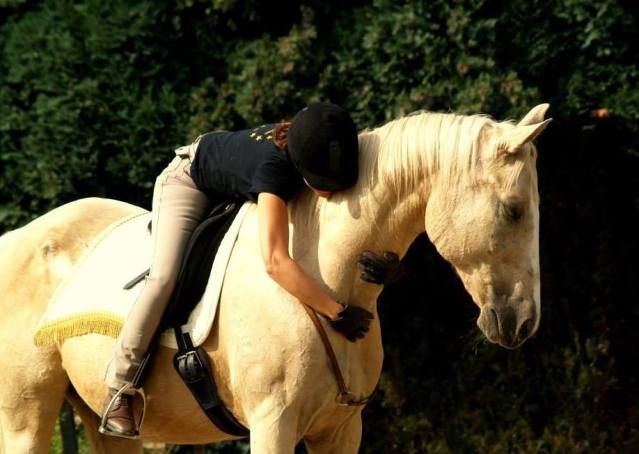 Joined: Tue May 15, 2007 2:40 pm
Posts: 4733
Location: Belgium
Hi all,
Andreja ask me to write an article for her magazine:
http://www.konjev-svet.net/mag/oreviji/
Allthough I can't find it anymore on the website (sorry Andreja ha ha !) here is the original english version. Might be of interest.
Currently I am working on the second article in this Range for Andreja.
__________________
Tradition unravelled



No one will argue about the fact that the horse world is dominated by traditions.
But these are not just any traditions… the horse world is dominated by military traditions to be more precise.
So how does that fit in to the nowadays horse world? And what really is the bottom line when it comes to actually training and keeping up traditions?

Over two eras ago, 300 B.C in fact, a man wrote down his thoughts about how to train horses. A General no less, devoted to the art of war… from horse back.
His insides in horse welfare and training seem even more current today as we have science at our disposal to find out all those things this general by the name of Xenophon and many Masters after him already found out by trial and error.

It was just as valuable to them to keep their horses healthy from mind and body as it is now for soldiers to make sure their helicopter is 200% in order before they take flight over an hostile area.
Though I like to believe, reading Xenophon's or Antoine De Pluvinel's teachings to name my personal two favourites, that there was more to it then self preservation during war time.
For I read love and understanding for the being horse, that is certainly not viewed as a machine of war, but as a being with thoughts, emotions and unique character.
So, it comes as no surprise to me that we today, cherish the old master's way still and train with their teachings at heart.

However, having worked with very difficult horses the past 20 years and teaching all those combinations that somehow have not found any positive improvement within traditional or classical training the past 4 years I had to take the old masters to hand again.

This time I asked their guidance in the light of horses that were not up to the task of being warhorse or steed.
For that is one of the first important lessons the Masters teach us, but just that one, most of us seem to overlook.
The Masters specifically searched out horses that had a natural ability to become war horse. Horses who would carry their rider's with ease and had no objection to the bit, spurs etc.

So, back to our time and age… how do we select a horse? When I ask around the answer mostly is: 'Because I think he is beautiful', 'I like his colour', 'He sort of came on my path' or 'I fell in love with him the moment I saw him and it clicked'.
Needless to say that we, in general do not select horses for their ability for being a steed or war horse. Thus the war horse training would not be the best training for a horse that does not fit the profile. So, this could very well be a huge cause for why more and more people are looking for different training ways then just the traditional one.

Having said that, you might have noticed that an other thing comes to mind. Namely, that all traditional riding are based on the education of a war horse.
And who of us, actually is going to fight a war with his horse any time soon? Not me, I can tell you, although I do not mind playing a tad of Xena Warrior princess once and a while.

So… why are we then still all training our horse in dressage based on the techniques for preparing a war horse… based purely on the profile of a natural born war horse talent?
Which brings me to an other huge (apparently) issue concerning the war horse training. I am applying towards the tools needed for a war horse, not even so much his education as the master's point out, but for the most part for the act of war itself.
The tools of course meaning Bits & Spurs.
As all the Master's point out, the key ingredient for true riding and for gymnasting a healthy horse is the posture and seat of the rider.
Bits ands spurs should be dealt with in the utmost delicacy. The rider should not depend on them in any way and it is made clear that any tool will effect the well-being and balance of the horse. So why did the old masters use the bit and spurs and teach their pupils to ride with them? The answer is simple: as I said before, purely for the act of war itself.
During the battle, bits and spurs were needed, as now, dear life depended upon it! This is not a time to occupy one self with seat aids and balance… as one may imagine.
Not in any way a healthy situation for the horse as we might all agree. But that is precisely where the dressage training was for to begin with. The exercises, the gymnastisation in short was all to prepare the horse for this, and because of the fit and balanced body (read: collected body) the horse will have minor defect from the act of war.

After studying the master's over and over, and experimenting with classical dressage with and without tack I come to the conclusion that the bit and spurs have not much to do with dressage but everything with war and military.
Even more so, as the bit and spurs are ever so difficult to learn to work with, or better learn not to work with them, in order not to disturb or discomfort the horse, why not let them stay in the tack room all together?
For the masters hammer on it over and over: Healthy and thus true dressage comes from the rider's seat, his intelligent sensitiveness, his posture, balance and his ability NOT to disturb his horse!
And I totally agree with the masters on that as I have experienced the truth in that over and over.
So, would it in all fairness not be prudent to take everything away from the rider, which could only stand in his way of not bothering his horse?

But what actually is the gymnastisation or that training that keeps horses healthy in their task as ridden animals? That is actually nothing more than a range of exercises which help the horse regain balance, straightness, strength and flexibility needed for (you guessed it) collection. And collection being the crown on the work saying: 'here we have a horse that can carry his rider without any problem' and could also withstand a field battle if needed. (one never knows…).

The exercises and aids are based on the natural ability and instinct of the horse. It's all about nature's laws. And it comes from studying the horse in all freedom, and next to that studying the effect of ground training and the effect of the human body on top of the horse in various movements and position.
The best way to think about this, is the think about a sailor at sea. He can not fight the sea nor the wind. He has to simply learn every outcome of his actions regarding to his surroundings at heart in order to have the best possible outcome 'stay afloat, and get where you want to be as fast as you can'.
With horses it is no different, for the forces of nature are present as much in a riding arena as they are at sea.

So, if riding is nothing more or less then getting to know the laws of nature and the horse's biomechanics, and bits and spurs can be of a nuisance for a lot of horses and riders.. why then do we keep these military traditions as we are clearly not using our horses for War anymore, nor do we select them for that purpose.
The answer is in the military tradition itself. For in the military being individual or thinking for your own is not something that is enhanced nor valuable.
Returning back to nowadays, with our individual lifestyles and individual horses which are the very core of our free time and leisure…one has to wonder if the military traditions in horse sports are valuable.
I have come to the conclusion that this is not the case. Individuality, thinking out of the box, and the master's first and foremost qualities to look for in a rider; seat, balance, posture and intelligent sensitivity, are what counts today.
And when I conclude with this: A lot of masters showed the high School exercises without any tack as proof of tack being in the way when using it constantly, what more is there to argue about?

You may now think; 'this is all fine, Josepha, but how on earth am I going to train my horse without tack?'
Then again, I must direct you to the old masters for even though we do not fight war on horse back and therefore do not need to find our way around the bit, the answer for a healthy horse underneath his rider are still there.
We just are able to speed up the process now, as our horses and we do not have to struggle with the easy mistakes all of us make with a bit.
We can simply move on to the exercises that help our horses. And we can do them from the ground or in the saddle. The basic gymnastisation revolves around the circles, serpentines, corners and lateral movement. But, they only produce a positive effect to the horse when done correctly. And in this respect, leaving the tack away or more precise the use of reins can help you to make correct turns.
No I am not joking, it is the truth. For the key ingredient of the horse's balance is his head. Now, how many riders do you see trying to ride a circle, pulling on the inside rein? And how many of those horses actually ever produce a correct circle, meaning, without the weight on their inside shoulder? The 'trick' is the seat and leg aids, and not to disturb the horse's head.
With the no reins to your disposal, you'll find a way of riding a circle on 'feel' and surprisingly, you'll see that your horse will produce excellent correct circles as now he has the freedom to make them!
© Josepha Guillaume
_____________________________
_________________
www.equusuniversalis.com