Lots of pictures: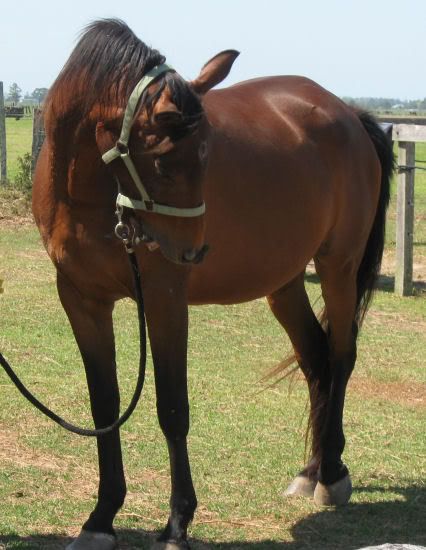 Bonnie
Float re-training with the clicker... (ideally I would have had no halter on her, but the grass near the float was so good that she would have just eaten all day
I didn't use the leadrope to get her on, it was all targetting.) She was scared very badly in a float, and reared up and bashed her poll on a bar on the roof, so she had BIG problems going on. She would rear, standing up as high as she could (that's very high) if faced with a float or truck, and do everything she could think of to avoid going in. I hired a float to work with her, and thought it would take days or weeks to convince her even to put a foot on the ramp, (especially as food had been tried to lure her - rather than as a reward - onto things before and hadn't worked) but no, she ended up going right IN on the first day we started. Is it any wonder I love clicker training so much.
Bon & Billy running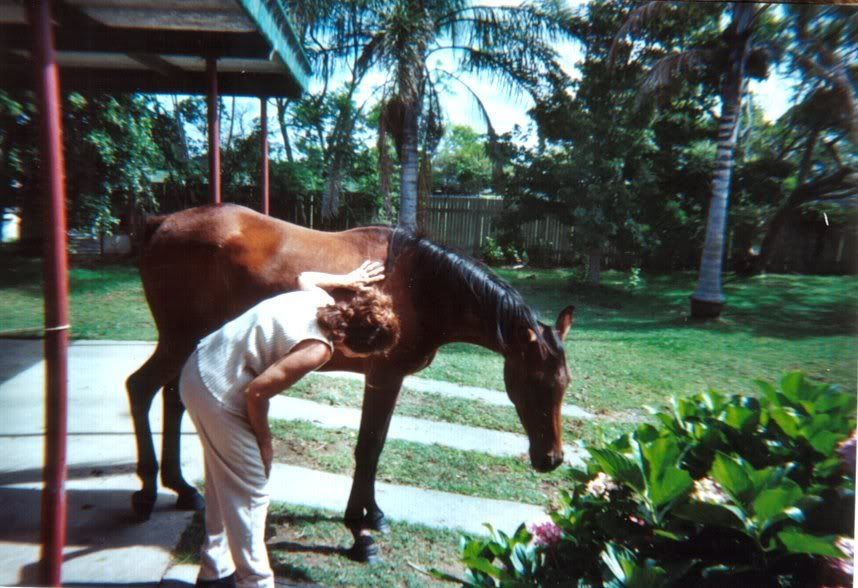 Bonnie & Mum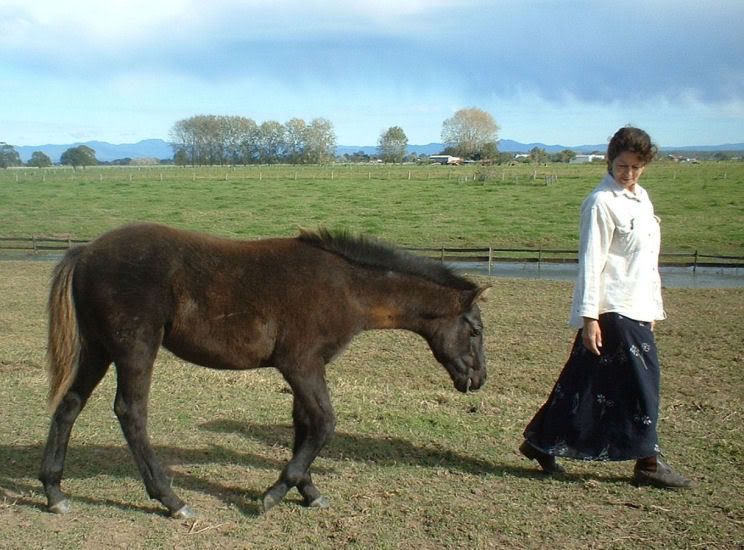 Baby Billy & Mum, teaching him to walk along with her.
His mouth looks odd and huge because he was kicked in it :( I have no idea who did that, but I suspect he may have got in the way of an altercation between his mother and someone, because ALL the horses, even the bullies like Destiny, were amazingly tolerant and so, so gentle with the foals.
Halter training. She got him to like the halter so much he would rather come to you in the paddock if you had a halter in your hand than not.
Argh, excuse all the weeds!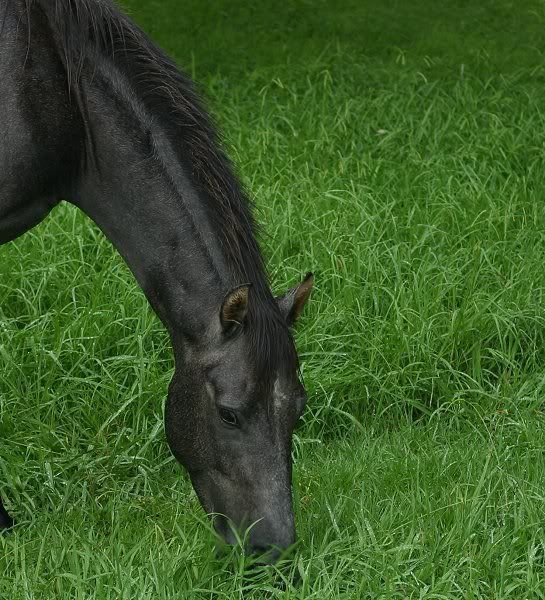 Billy in the front yard, Jan 2007
October 2008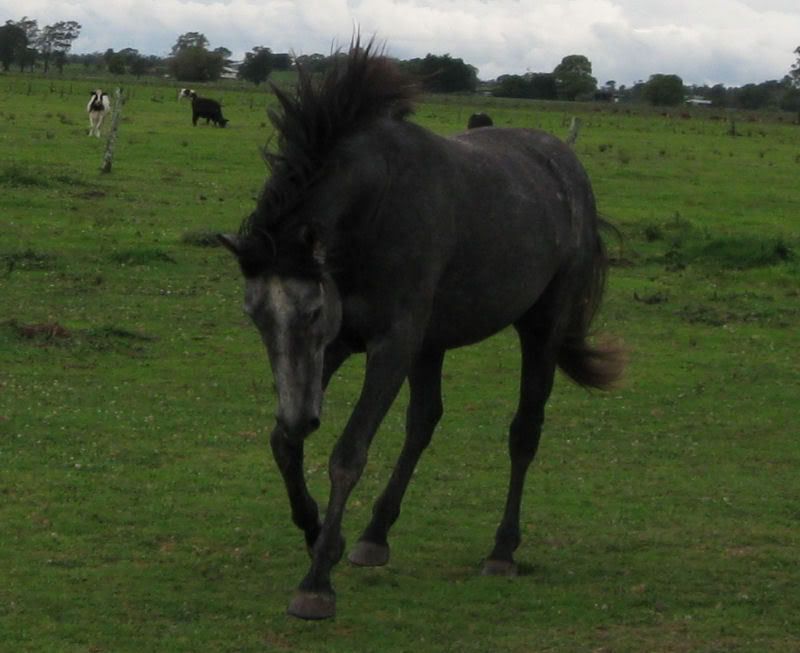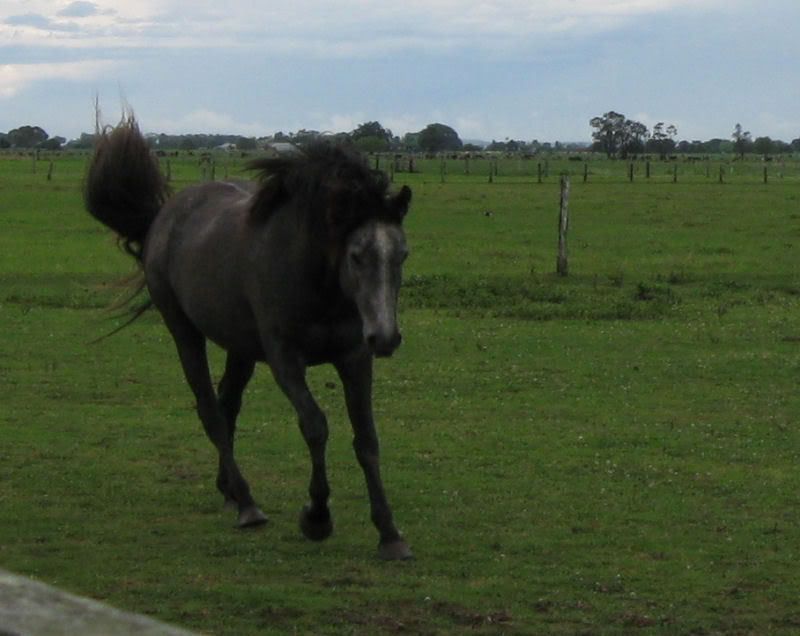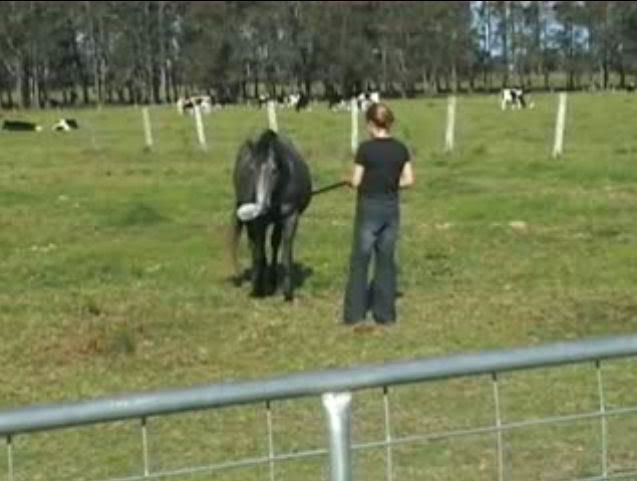 Targetting
Muffin & Billy. Poor Bill, he hangs over the fence and runs around and tries to convince Muffin to come and play with him like they used to when he was younger, but Muffin isn't interested. I had to separate them once Billy grew up, not because he was aggressive to the geldings, but because his play was so rough and they're not as young as they used to be. Muffin seemed to have a hard time when Bill jumped all over him. He would stop for a while if Muffin told him that was enough, but then he'd start again. Maybe I was being too overprotective, I don't know. It just seemed a bit unfair to Muffin, he was getting sick of him. They still touch noses and talk to each other over the fence, but I feel bad that Bill doesn't have anyone to play with except me, and I obviously can't do rough horse games.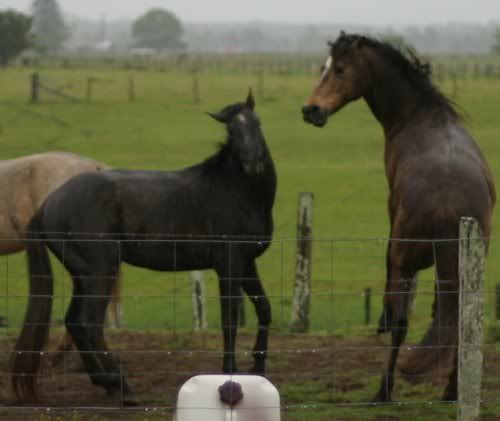 When they were together.
Gretchen & me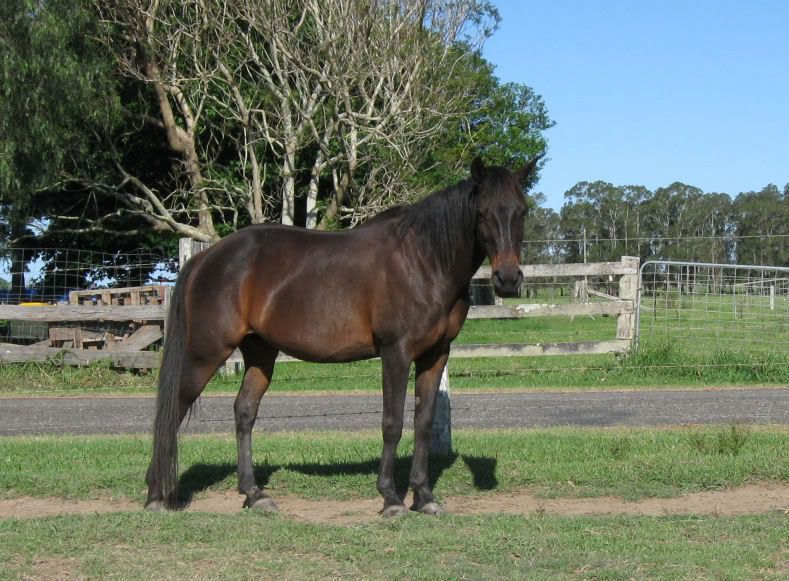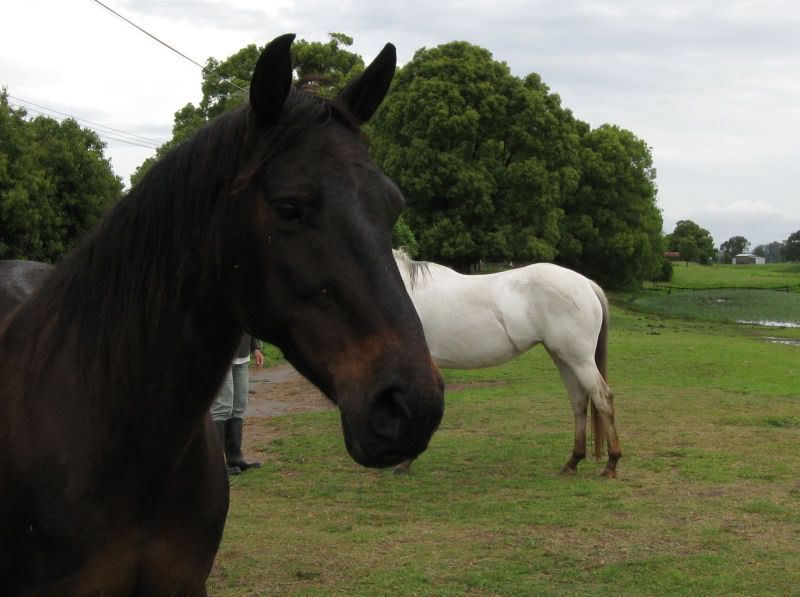 My friend Luke having a lesson on Gretchen. (With a no-bit bridle.) She's scared of most people on the ground (though from a trail riding business, so used to having different people on her back) especially men, but she loves Luke, he's really gentle.
She's excellent for lessons, she really looks after people.
I've already posted lots of Holly, but here are a few more: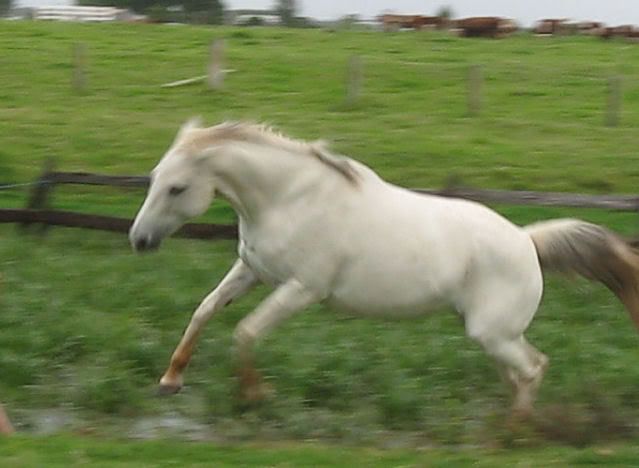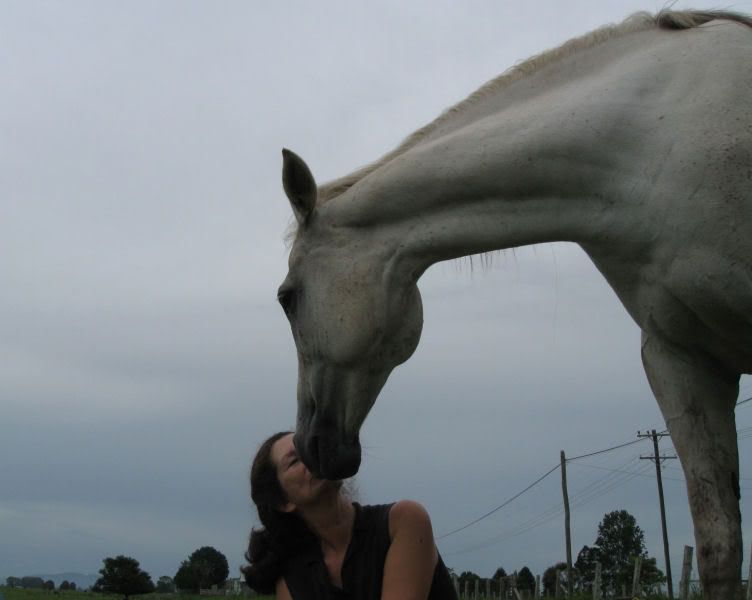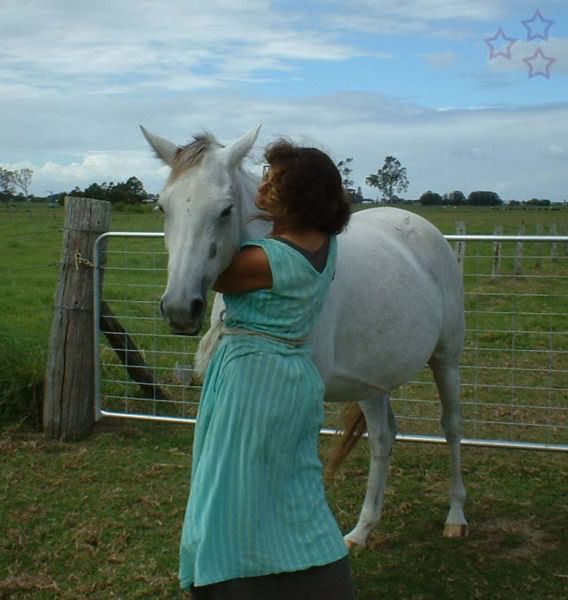 Mum & Holly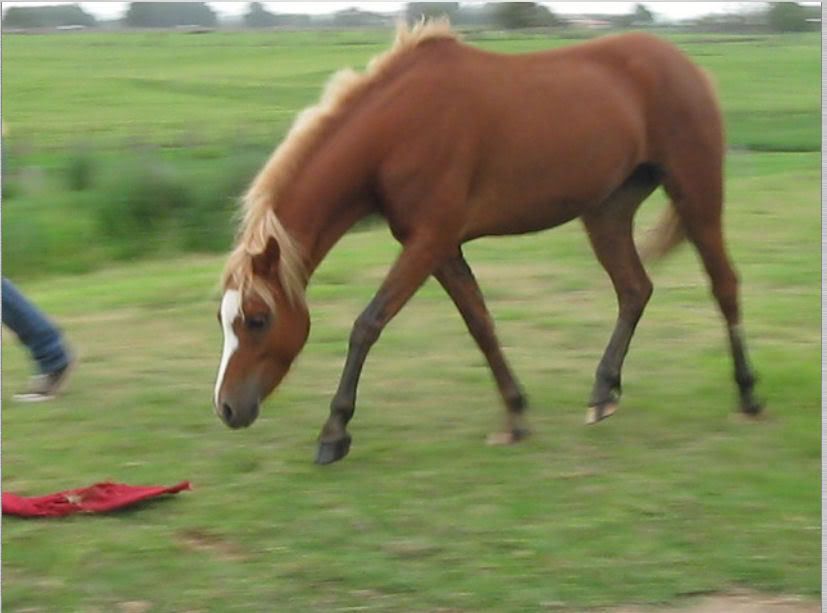 Willow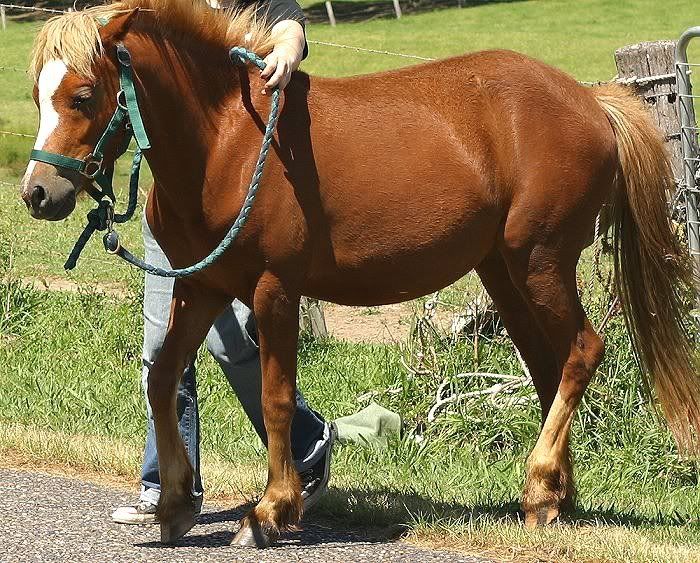 This was the first time I got on her. She did so well! She is 4 and a half here. If I could go back, I'd wait until she was even older than that, full mature - so around now. But I only rode her for a few minutes at a time, about six times (including up the road twice and she acted like a fully trained, very quiet, much older horse
), and then did leave it. She's six now and I haven't been back on her yet, I need to lose weight. Or maybe even find someone smaller to ride her, that would probably be better, she is really small. Oh and I was slim back then, not like some of the photos here, so I was light and she carried me easily. The jumper I'm wearing in this next one makes me look bigger than I was.
2nd ride. "Where's my treat?" Me on her back was just another game to her.
Muffin, Holly and a neighbour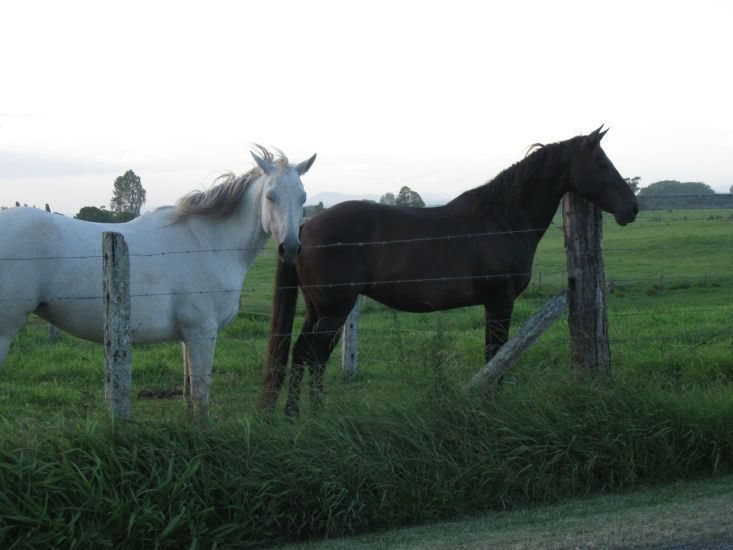 Holly & Gretchen
Muffin & Bonnie 2003
Foals & Holly, 2003