This is an exercie diary for all kinds of object discrimination tasks. Please feel free to share your experiences with us!
For inspirational videos see for example:
McKee and Peggy Hogan - Match to Sample
Lukas and Karen Murdock - different object discrimination tasks
(please add other videos that you know and I will edit them into the first message)
Today we did a color discrimination task with Pia for the first time. We started with two color cards, a blue one and a yellow one.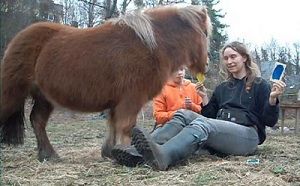 In the beginning of each trial, I either said "search blue" or "search yellow", and Nora rewarded when Pia touched the correct card with her nose. Perhaps we started out too difficult, because I guess if you were very systematic, you would work on targeting an object first (which I think Pia and I have not done before in any systematic way), and then doing it on cue (stimulus control) and only then include a discrimination task. However, I usually prefer the messy way where we work with all the task components right from the start, and then tidy up later during the process. But you can see the consequences of this approach in
today's video
, where Pia sometimes goes for a target before my cue and sometimes tries to bite it instead of touching it.
I also made sure to switch sides now and then to prevent that Pia learns direction discrimination instead of color discrimination (which could happen if "search blue" was always associated with the left card for example). If we ever get that far, we will test the limits of Pia cognition by later introducing a left/right task as well, and then letting her switch between the two tasks in response to the same stimuli, so that for example when I hold a blue card on the left side and say "blue" she has to touch it, whereas when I say "right" she has to choose the yellow one on the right side.
Her learning process of today's simple version was ever so interesting. First she moved her head around unsystematically and then by accident touched a card sometimes, which we rewarded if it was the one we had named before. Later her head movements became more and more restricted to the area where the cards were, and still later she began to intentionally touch them, but still her discrimination was at chance. Her next step was to understand that when we did not reward for touching the card she touched, the best strategy was to switch to the other one. Well, actually there was another intermediate step of trying to bite the card instead of touching it. Until very late in this session I still had the feeling that she did not really use the color but just became quicker at trying one by chance and then recognizing whether we would reward or not, and switch to the other one in the latter case. In the end I felt she did make some use of the colors, but we will learn more about that next time.
I am so excited to continue working on this, and especially about the things that I will learn. My plan is to test different kinds of alternative explanations once she perform the task almost perfectly (e.g. reaction to body language), and then hopefully find out more about the way my little pony girl is thinking.