Thank you all for the warm welcome!
There are some pictures of my horses:
This is Rusty: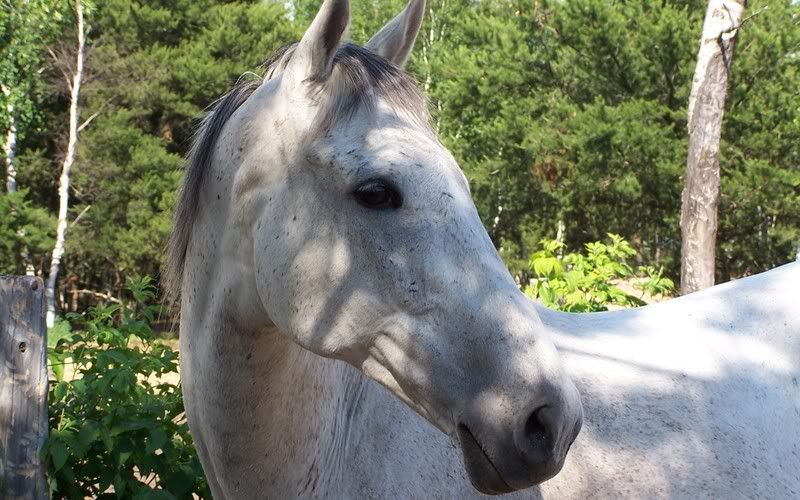 This is Maggie: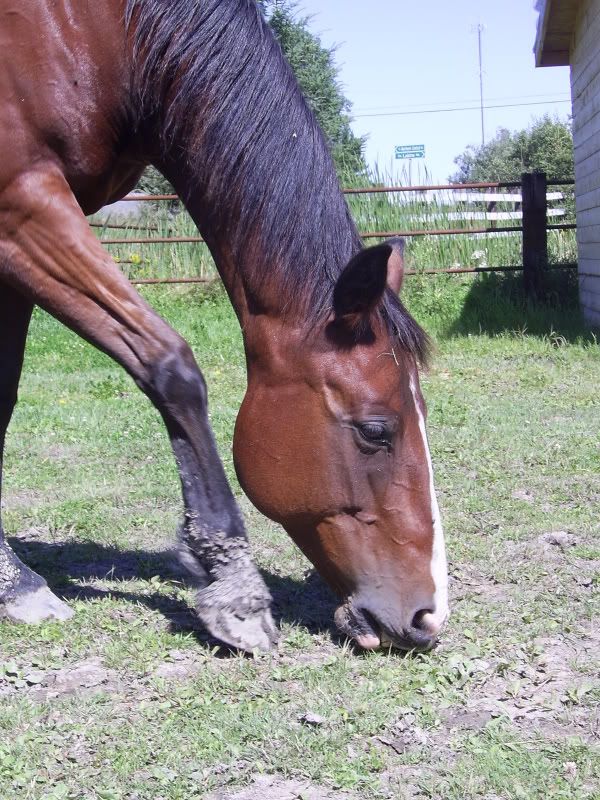 And here is some more info about me and my horse friends, for anyone who's interested!
I am 22 years old and I am currently attending university, so it is hard to find time to go out to the barn and visit the horses sometimes, especially because they are boarded at a farm that is a 40 minute drive away from my home! But school is over near the end of April, so I am hoping to have a great summer with the horses!
I have had Rusty for quite some time now, but I feel like my past traditional dressage training has negatively affected our relationship. He is a very dominant horse, and he is the boss of his herd. He also tries to be the boss of me, and in this no-force way of doing things, I'm not exactly sure how to interact successfully with him sometimes! I think he's going to be a challenge, but I think that once I am successful in developing a good relationship with him, it will be an unbreakable bond. Rusty was diagnosed with Navicular syndrome shortly after I purchased him, and we went through lots of "corrective" shoeing and medications to try to help him. But finally, I decided to learn how to trim a barefoot horse and we embraced the natural lifestyle. He is now living outside 24/7 with three other geldings and with a big hay pile at all times. He seems much happier now than when he was kept in a more traditional manner (i.e. stalled at night, turned out in his own paddock). Rusty has not been in serious training since I first put him barefoot in the summer of 2006. I have spent the years since then trying to find a horse-training philosophy that feels right to me. I think I have finally found that with AND! Rusty has spent the last couple years just being a horse. I have moved him around from barn to barn more than I would have liked, trying to find a place that is suitable. My goal with Rusty is to get him to be my friend and trust me and desire to be with me.
I bought Maggie last year and she is just a big sweet heart. She lives outside 24/7 with two other mares and one gelding. I really would like her to see me as a friend that she wants to spend time with, but right now she just gets nervous when separated from her herdmates.
I'm not exactly sure where to start my AND journey. I want to fully embrace the "no-force" and "no-punishment" concepts, but I'm not sure how and I have a lot of questions. For example, how do I bring Rusty in from his field when he won't walk with me to the barn? He just stands there and I have to pull on the lead rope to get him to move an inch. Is it ok to tie up the horse is cross-ties while brushing them? Rusty does not like to be brushed; he gets irritated and tries to bite me; but I want to brush him to keep his coat and skin healthy, so what do I do? Also, I take the horses into the indoor arena (because there is no outdoor work space) to work with them, but when I bring them in there alone, they get upset because they want to be with their horse friends instead of me!
I will start a diary for my horses in the daily training section of the forum, and I will be asking lots of questions!!
I want to thank all of you for being so welcoming and open! I am used to people thinking I am a crazy person for wanting to be with my horses in a natural way. The people at the barn where I board my horses train in a traditional way, and they make me feel pressured to ride. They always ask "are you riding today?" I don't really mind though, because I know what I feel is right and I don't care what other people think. It's just nice to be in an environment here on this forum where everyone has the same mindset!