Hi i'm Tanya,
I've been arround horses and dogs since I was a baby, I was taught to ride traditionaly but about 5 years ago I started to play with the horses with just a rope arround thier necks, they loved it and so did I, untill a few months ago I never understood or went much futher with this. I was looking on the net about bitless work with horses and found NHE, and thats a story for another day, It did however open my eyes to the possibility of having the greatest relationship with my horses that I had ever imagined.
I live in Australia and have the privalige of looking after 20 beautiful horses and ponies. We used to breed Highland ponies but now most of our horses are reascued from abuse or neglect.
I have stoped riding since I found out about NHE and i'm loving it, it takes off all the preasure, I can just 'be' with the horses. I guess I will ride again when the time is right, but for now i'm just happy to hang arround and play them and I think they are to.
I'll just post one pic for now of my darling Eilidh, she is the love of my life, shes a 13.2hh, 14yo Highland pony mare and I've had her since she was born.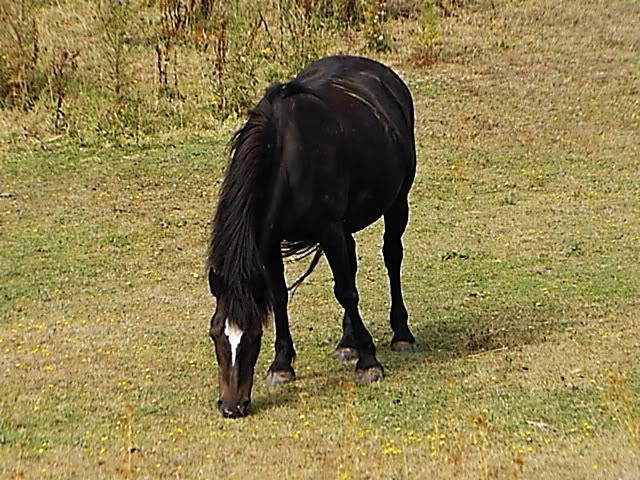 Edit (please excuse my awful spelling)
Wow it's been a long time, I had to take a break from here for a while (even though I had just arrived) alot of things have been happening in my life and the NHE thing put me off forums (lol).
I have had a lot of preasure from people to "compete and ride properly" in the last few months and most of it has come from someone very close that I thought would support me all the way, she understands the no bit part of things but not the rest of it. I aso lost someone very dear to me and it has made me realise that life is short and I need to get my bum in to gear! There is so much I want to do!
Needless to say all these things have led me back here, I need the support of like minded people, to know there are others out there that have the same dreams for thier horses.
I have started to put together a proposal for the Pony Club Assosiation of Victoria to hopefuly convince them to allow the use of bitless bridles. I know its not much but its a step towards a better future for horses. If anyone has any info that migh help convince them it would be
very
much apreciated!
I am also trying to organise a Share your experiences/knowladge/clinic of sorts to explain and demonstrate the relationship you can have with your horse by not using a bit or punishment by using cordeos and playing games that sort of thing. Anyone in Victoria Australia thats interested I would love to hear any ideas you had, if you think its a good idea or bad? and even better, if you'd like to come.
Now back to the unfinnished introduction...
You've met Eilidh so here is her Dam Penny, 29yo, 12.3hh Highland Pony mare
Hunter, Eilidhs not so little brother, 14hh, 13yo Highland Pony Gelding (the big grey fellow)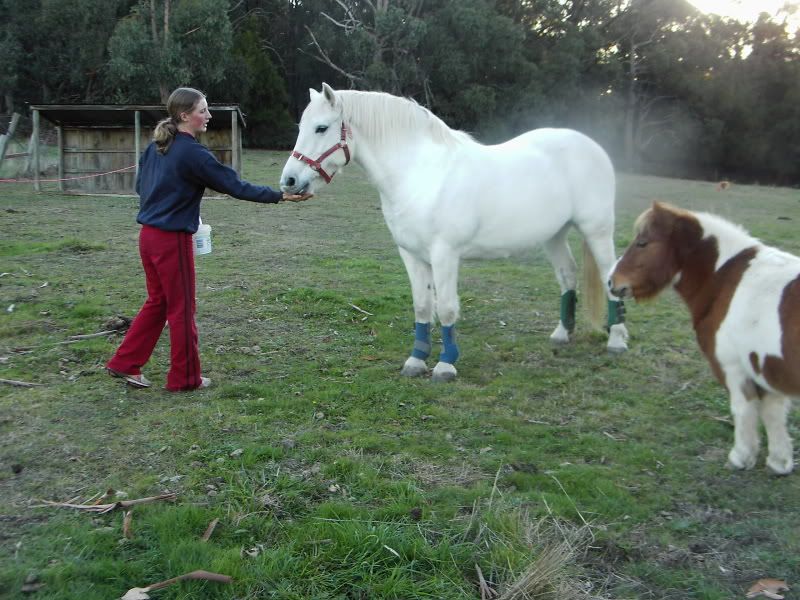 Eilidhs first foal Ceilidh, 4yo, 13.2hh? Arab x Highland mare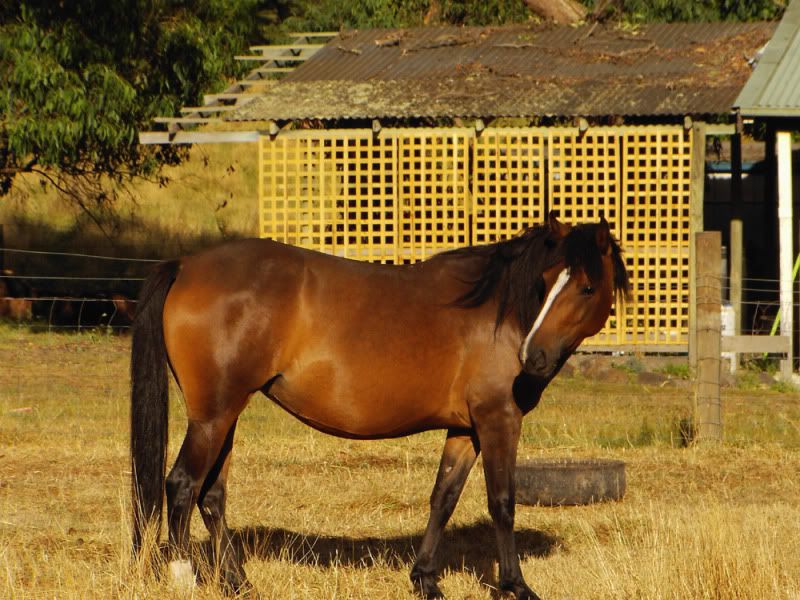 Eilidhs seccond foal Coolie, 2yo, aprox 13.3hh, Stock horse x Highland gelding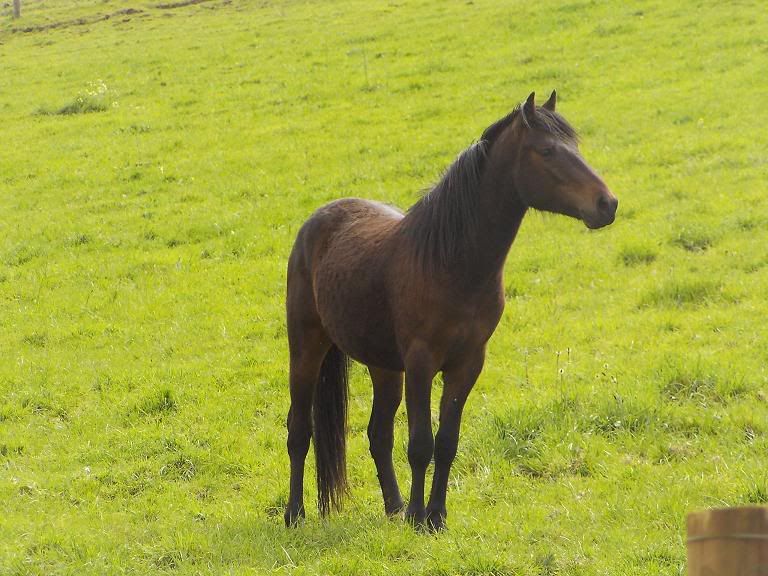 Eilidhs 3rd and last foal Bonnie (other wise known as monster pony, she is already boss of 5 out of the 6 other horses in the paddock) , 6 month old, Qarter horse x Highland Filly
Cara, Ceilidhs first baby (a bit of an accedent, don't regret it at all though lol, Her daddy Tom was suppost to be infurtile because he was so badly starved for his first 2 yoears of life), 8 month old, quarter horse x arab x highland filly
Nichol, 9yo (i've had him since he was 4), 12hh, australian pony, we reascued him from abuse, I was suppost to just have him for a month to do some ground work with but that didnt happen, I fell in love and no one else could get near him when they tryed to catch him (because some idiot chaced him with a car till he couldn't stop and slit his mouth with a knife) so they decided he wasn't worth re selling and I could keep him, Thank God! Hes the little man that started the playing with the cordeo (because of his mouth). (he says please excuse his large tummy, hes been working on it at the gym)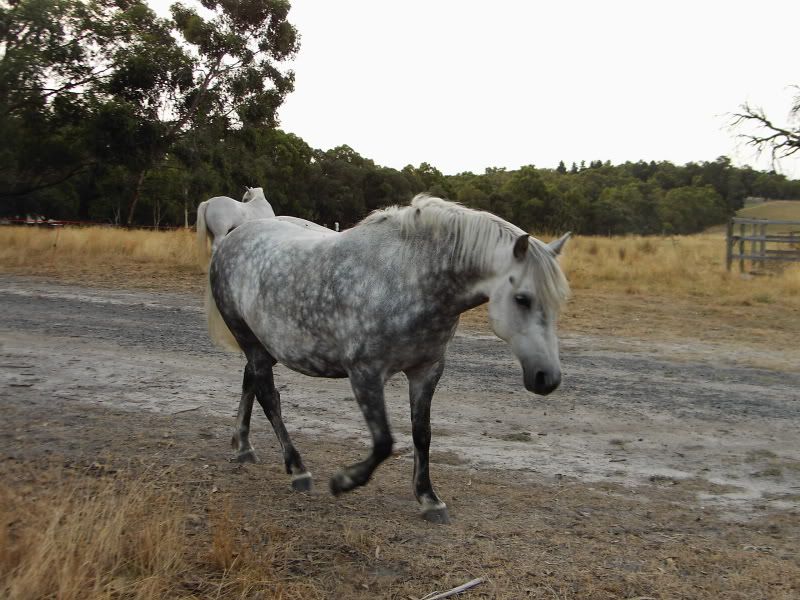 Denny, 15yo, 15hh stock horse gelding. He was reascued and then re rescued, its a long story. Hes such a sop, all he wants is cuddles and he'd lick you all day if you let him.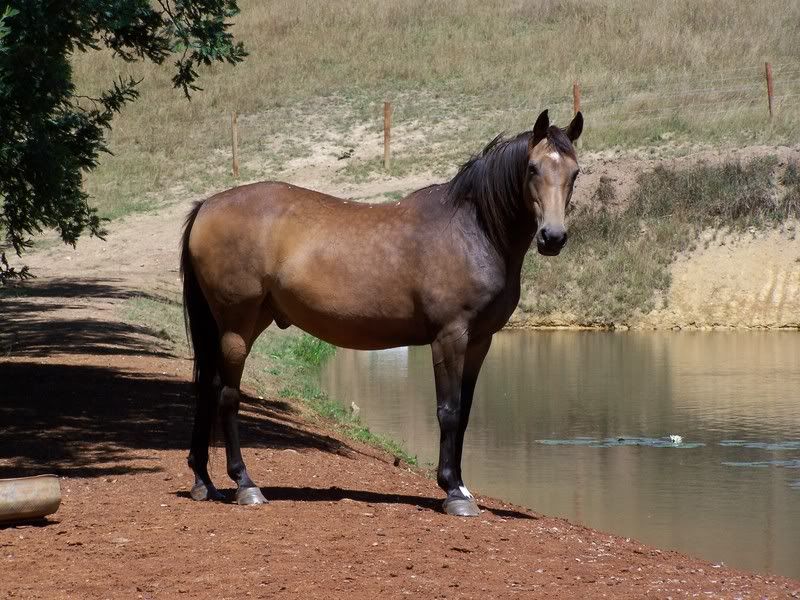 Thunder, My baby, 15yo, 15hh clydesdale x some sort of pony (cob?) gelding. He was rescued from a very ignorant man wholike to watch him run so he chased him arround with a stick and got him stuck between the house and car with a cart on (he was broken to harness). Hes very sensitive now but sweet and so honest, and an absolute pig of an eater!
Luke, 5yo, 16hh, connemara x TB gelding. I bought him to showjump (thats never going to happen now) hes having a career change to lazy bum baby.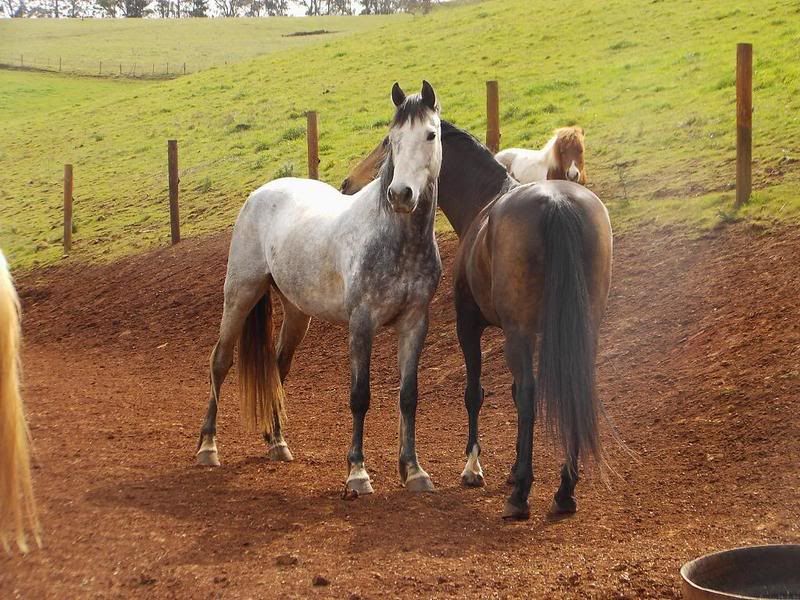 Tom, 4yo, 14.3hh Quarter horse stallion (to be gelded), Cara and Bonnies Daddy, Rescued from starvation. I think we have finaly found him the perfect home with a lovely lady who is very willing to just spend time with him and love him and when hes ready ride him bitless.
Tug, 9yo, 9hh shetland x mini pony. He and Snow where dumped as uncatchable colts after a marrage break up. Hes absolutly brilliant, he can calm down almost any horse and hes best friends with Hunter which is something because Hunter is the bossyest pony i've ever met, he NEVER lets another horse near his girls ( Eilidh, Penny, Ceilidh, Cara and Bonnie) accept Tug, hes allowd to eat with him and they play like foals for hours together.
Snow, 10yo, 8.2hh shetland. Snow is so sweet, cuddly and loves kids but hes very unsure of tall men. I think he might have been hit buy one when he was a young full of himself colt. I'm looking for a home for him with kids and loving willing to learn people. (if you know anyone), I hate to do it but he loves the attention of kids and he won't get it living with me.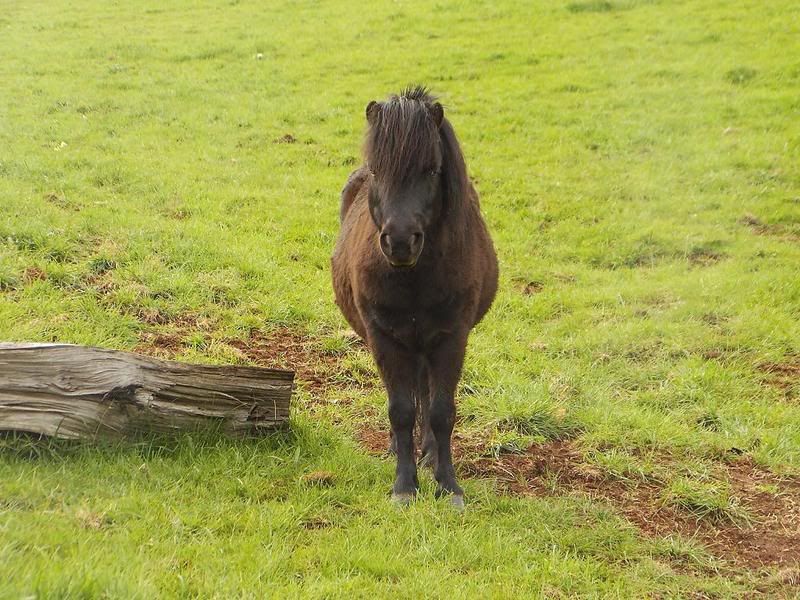 Lily, my first pony, 19yo 10.2hh shetland x welsh. Shes a cheeky little girl, she used to buck be off all the time (I probably deserved it, though I was too young to know why).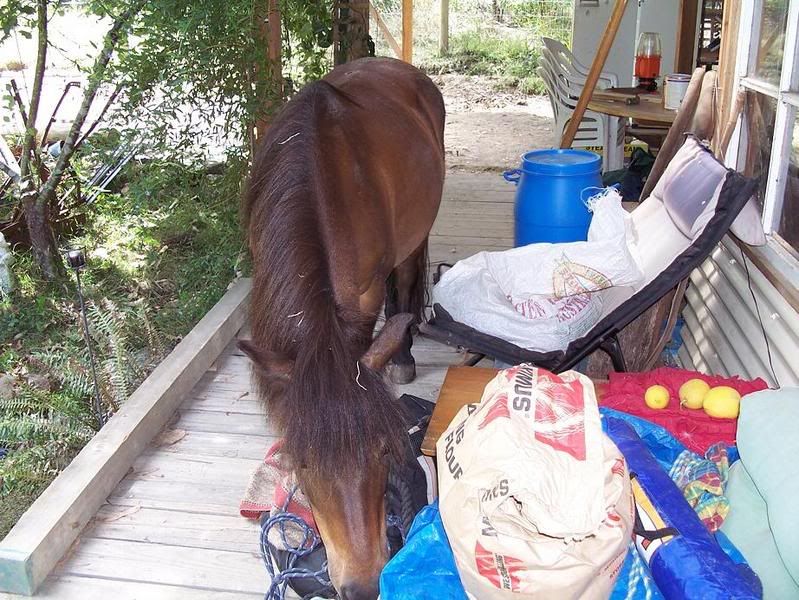 Barnsy, the newest arrival, 16hh, 12yo TB gelding. His old owner bough him as a show horse for $10,000 (the fact that you can put a price tag on a living animal in the first place is descusting), he reared on her a few times and she decided he was dangerous and should be put down, I found out and said I would take him. Hes so sore in his girth, back and hindquarters and she rode him so tight and tense its no wonder he reared, hes so sweet and smart, when I bring him up to do his massage he moves arround for me to get the 'good spots', i've started him doing some gentle streching too. If you know any good streches for those areas we'd love to know!
We have a few other short term resedents too one of them is jessie a 19yo, 12hh welsh mare.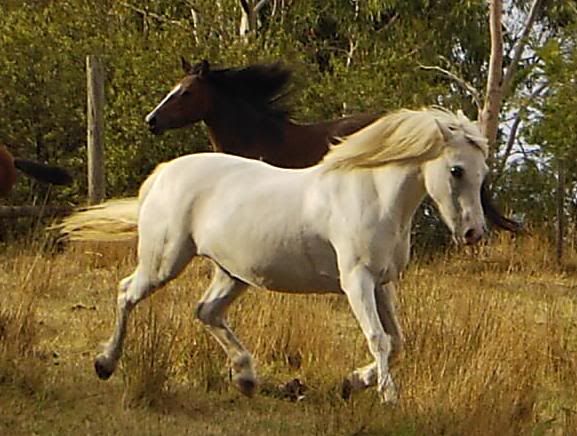 And to finnish off for tonight (its getting late) just some fun pics.