Hi Everyone,
It's me
For those of you who have no idea who I am, here is a link to my first ever thread
viewtopic.php?f=3&t=1947&p=36585#p36585
It's been absolutely ages since I have been on here, been so stupidly manic with one thing and another. SO much has changed since I last came on.
Business is going well. I am slowly building up my client base now, although still not as busy as I would like to be, especially this time of year. I have a Trade Stand at the Whole Horse Weekend Event this coming Saturday so most of this week is being spent getting ready for that.
Horse wise, well. Some of you may remember my little Section A pony Dylan, well I made the heartbreaking decision to put him out on Permanent loan back in April. He has gone to a very dear friend of mine who will have the time to do so much more with him than I had. The plan is to back him (he's 3yrs now) for her children to ride, also train him to harness and continue with his showing. He is doing really well and settled in fantastically.
Now, I still have my Kiwi Monster, nothing would part us. He is doing really well. Took him SJ last month which was great and also XC last month, again very good day. He's having a bit of a break from work at the moment, not totally, he is still being ridden but I have backed off a little bit as no competitions lined up etc. I have just purchased a lovely Western Bridle for him and am planning on doing some western work with him, see how he goes.
Chunky is still with me. Lovely as he always is, looking superb and just so chilled out and loving life. I did start a diary for him with clicker training to help with re halter training him. Due to other commitments I didn't keep this diary going but the clicker training was a success and I can now put the halter on him without any problems at all.
You may also remember Lady, the Section D filly me and a friend purchased from Auctions? Also another part bred colt called Sparky? Well they are both doing well. They are living with my friend and I have "opted out" of the arrangement me and my friend had so both belong totally to my friend now, but I have heard they are both doing very well.
Ok, I have two new arrivals since I was last on here. Firstly I have Abbey, an 8yr old Welsh Section D x Irish cob mare. Abbey stands at around 14.2hh. Abbey came to me through EMW (Equine Market Watch) which is the charity I work with. Abbey was rescued by EMW when she was just 6months old, totally feral. EMW brought her up, backed her and had her working beautifully under saddle. In 2007, Abbey went out to a loan home which basically didn't work out, but it wasn't until early this year that problems with Abbey and her loaners came to light. EMW had checked Abbey in her home, as they do every horse belonging to them, and nothing was apparent. The loaners also never told EMW of any problems so nothing happened. When it did come to light what was going on, EMW removed Abbey and sent her to me. To cut a very long story short, when Abbey first came to me back in February, she was very much a "rearer", in hand and ridden. Riding wise she would be fine for you to get on, but as soon as you put your leg on, she would run backwards around the school, totally backward thinking. Now, we are starting to work on our Canter. Abbey is going well on the flat in walk and trot, we do have some issues with Canter but every time I ride her we have progress
The high likeliness is that Abbey will remain with myself permanently as my second horse. Oh and Abbey is ridden, bitless, treeless AND barefoot.
The latest newbie is an unregistered section A called Lewyn. I rescued him about a month ago and paid the meesly sum of £80 for him. He was in emaciated condition. Gelded as a 2yr old, he was then turned onto the common to fend for himself. Lewyn has been sold to me as a 6yr old, totally untouched, but I am not so sure. He has definitely been handled in the past, but signs he is showing tells me he has been terribly abused. I am not so sure he is 6yrs. He is definately between 4yrs and 6yrs but I think closer to 4yrs.
Lewyn has come on fantastically in the last month. He has put on weight, him immune system has built back up and he is just fantastic. Leading him is easy, catching him is easy as long as I have food lol. I have lunged him twice in the last week, just for 5mins which he is picking up really well. I can now groom him and I have trimmed all his feet. Lewyn ADORES clicker work
and is responding very well to it. The plan with Lewyn is to bring him on and back him when he is ready, no rush and then find a nice home for him. I am aiming him towards becoming a LR pony for small children.
So, onto some recent pics for you as I know you like to see pictures lol
Kiwi;
Chunky;
Just to remind you of how he looked when he arrived back in November 08;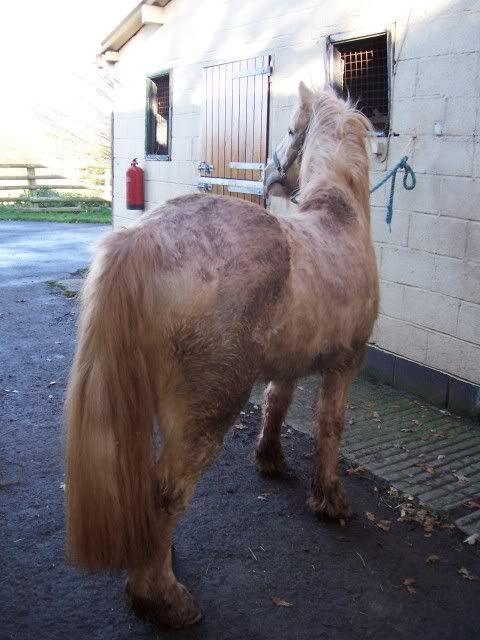 and now;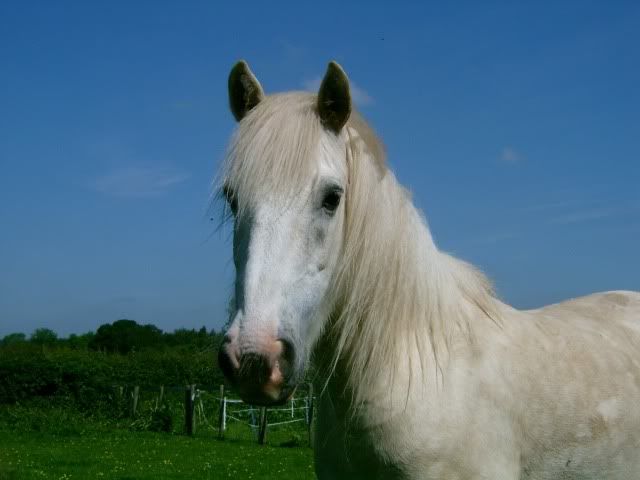 Abbey;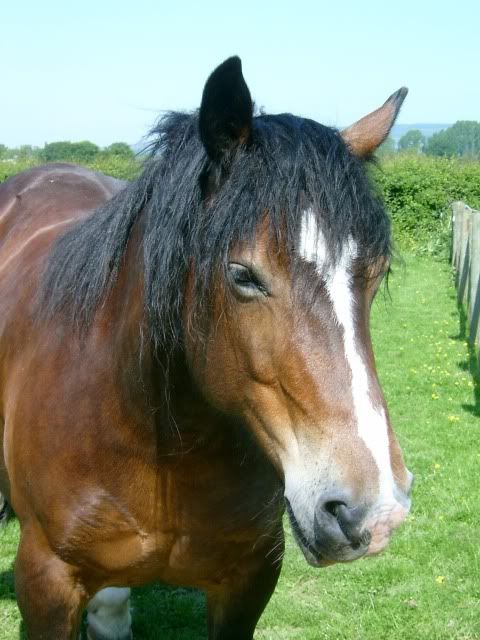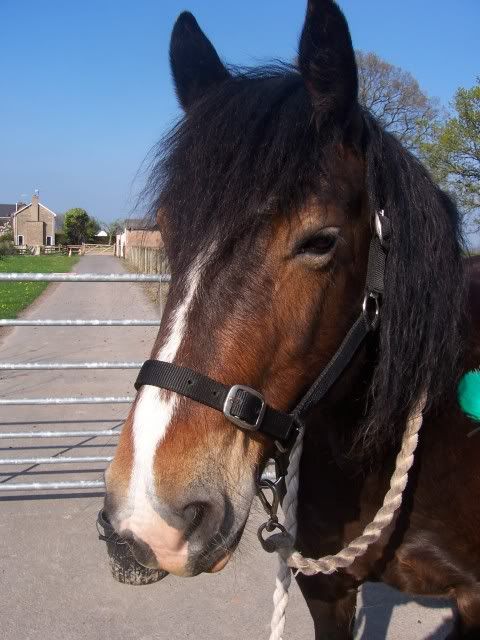 and Lewyn;
How he looked on arrival (pics really don't do justice how thin and poorly he was
);
and now;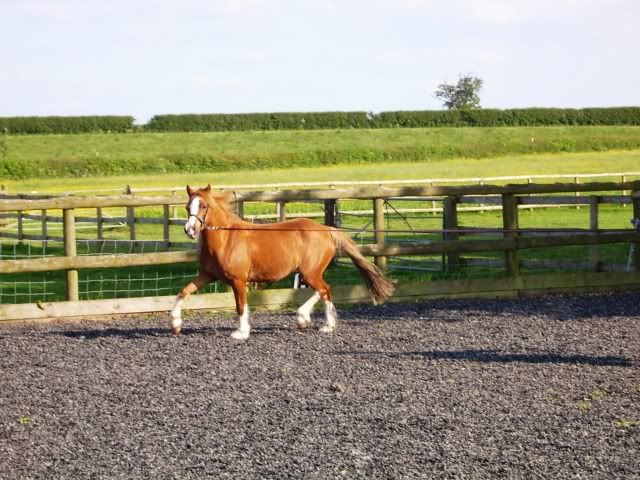 and I can't leave my little blonde bombshell Taboo out;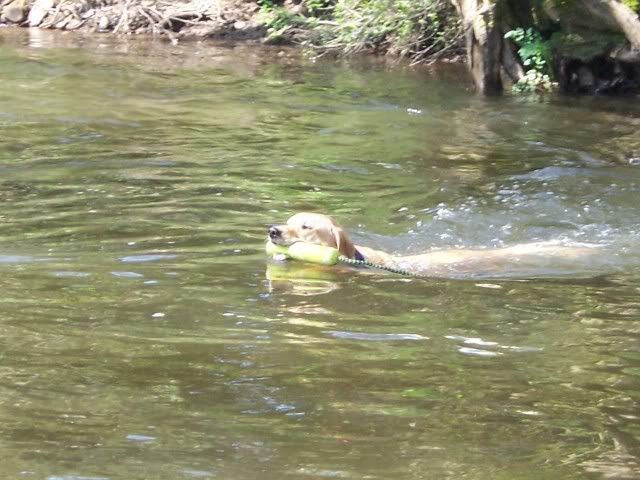 So, that's my update and that's my gang
Thanks for looking and I hope all of you are as happy and well as me and my mob
xxx