Oh yes. a white horse changes color very often. I've seen then turn green from rolling on spring grass
and they go orange if they roll in river-sand or builder's sand
So, Laska has been more and more indicating that he's thinking about being ridden. He is diving his head into bridles and grabbing bits
and placing himself under saddles
He has become much more calm around the mounting block. I have been able to throw myself at his back without him moving his feet or holding his breath. I have been able to lay a lg over his back while the other foot stays on the mounting block which always used to make him move away with his head in the clouds.
Alaska consented to allow the groom to lie across his back earlier this week. This is HUGE. Major breakthrough. He even walked a little bit with the groom across his back. It was obvious that Laska was struggling to balance.
So I gave him a "rider" for today's outride.
that weighs around 5kg.
It is feed-bags with some horse food inside.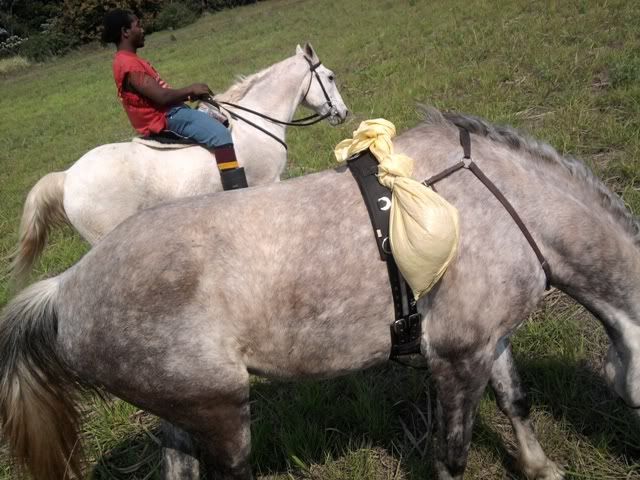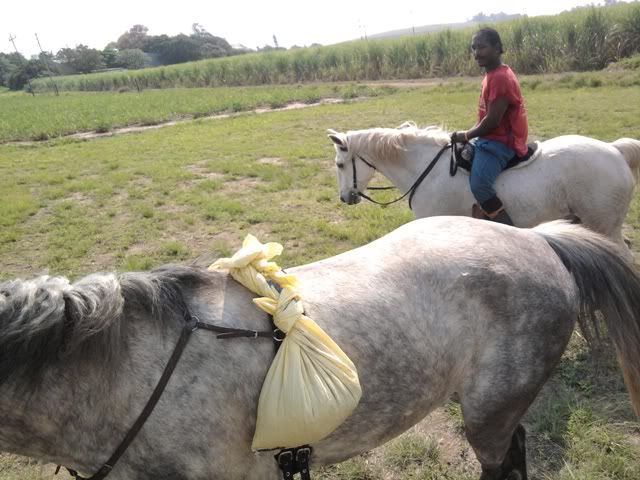 There was a lot of kicking out and bucking when the weight moved
and he moved a lot faster than usual
but that might have been because I stopped Santa and we stayed back grazing while Rocket and Laska went cantering. I think Santa has hurt a leg or foot - he was intermittently limping.
In other news, I had my first ever "cordeo only" ride on Rocket on the weekend and the little darling was magnificent. We need to work a little more on the brakes, though, which is why I am keeping the bit on outrides for a while longer.