Hello everybody,
I have already been a member of this board for some months. I was very happy when I found it, because of all the usefull explanations and topics. I have read some things and used some also, but I think it is now time for me to start with using AND more seriously.
Before I'm going on like this I'll first introduce myself. My name is Ananja and I'm an eighteen year old Dutch girl. Watching the riding lesson of my babysitter when I was 7 years old, I really became fascinated by horses and wanted to take riding lessons myself. Some time later I began taking lessons once a week at a riding school. I looked forward at the lessons every week, and the time came very soon that I was going to ask my parents if I was allowed to own a pony myself. They always said that they didn't know anything about how to arrange that, that it was too difficult and if I really wanted a pony, that I had to pray for it. (I'm a christian.)
After three years of taking riding lessons, me and my friends were walking towards the stables when my riding instructor asked us to walk on, because she wanted to talk with my mother. Ofcourse I was reading the Penny magazine at that time (I'm not sure how the English version is called.) and I got immediately thoughts that I would finally get the pony I had asked for so many times. But I also thought that such things would never happen in real life.
Next morning when I woke up, my mum asked me if I would like it to have a Shetland pony!!!!!
No need to tell my answer here!
He was even black, my favorite color!
Some time later, my father and I went to Swa's home. I remember that I held a lovely five year old stallion, who helped me searching the best grass for him with pulling me there. I felt in love and was happy enough to find a field close to my home where he could stay.
This is us at the very beginning, I think Swa was still a stallion here, a few months later he was castrated because a mare came also at that field.
In the almost seven years that passed, I learned how to treat a naughty Shetland pony who will go his own way if you're not clear enough. We spend many happy hours together cuddling and walking. But sometimes I would become upset about him, because I wasn't understanding why he didn't want to do some simple things like not trotting when walking next to me. He also liked it to snap at me, not really biting, but he did it in a sneaky way that I didn't like. Sometimes I could get frustrated about it and beat him when he wanted to walk in front of me for the hundredth time of the day. This looks like I couldn't do much with him, which is not true, he was just sometimes taking his own path. We had no serious problems, but when I'm looking back, he missed a real and consequent leader and I had nobody who watched us and gave hints about a good way to handle him.
In 2007, I discovered trick training and learned Swa some tricks. I didn't use clickertraining at that time and made mistakes in the training, which wasn't a problem, but Swa didn't learn as quick as possible because of that. Some years later, I began reading a lot at the internet about trick training and natural horsemanship. When I read about that walking in front of your horse makes him clear that YOU are leading him and not in the other way, I first thought that my way of walking with Swa was good enough, okay, he didn't listen always, but then I would tell him clearly that he did things wrong. But especially every winter, because he was more excited then, walking with him was not always nice. He still tried to snap and to trot, after some years of correcting him always when he wasn't acting the right way. So I finally decided that from now on, I would always walk in front of him. Swa could understand that much better and became less excited when we were going for a walk. I started to invent some natural horsemanship exercises. I already did free lunging and used body language like Emiel Voest does, without really knowing about him. I started to understand more and more about the way horses are thinking. After some time, I also wanted to go on with trick training, but now with a consequent reward signal. I found out that Swa was more willing to work with me when we were clickertraining and also really liked the work, while I had before never a thought about that he would really chose himself the work we were doing. He sometimes even shows some tricks when I'm having a pause at the training. I really like this change, because Swa is the kind of pony which is acting like he doesn't really need you. He really wants to cuddle with you when you're standing beside him, but sometimes even didn't look up from grazing when I called him.
But when I became more seriously involved with natural horsemanship and clickertraining, I wondered in which way I wanted to go on with Swa. I'm doing some ground exercises from the Academic art of riding and my instructor also showed me how to do sideways the way Parelli does. Swa and I practiced, but I didn't like the way I had to use phases and react more intense when Swa didn't react. I liked my way of taking small steps more and giving the aid the whole time with the same intense until he would response and then rewarding him. Somehow I knew I had to chose if I wanted to go on learning Swa things without food and more pressure or with food. He really loves food and wants to do everything to get a little piece of apple. There was also my problem: I want him to work because he wants to work with me, not because he wants food. I gave myself some time to read a lot at the internet about rewarding with release of pressure and the disadvantages of it. After that, I wanted to decide how to go on. It took some time till I was sure, but then I read a topic at this forum in which I think Miriam, said that when you're working with pressure, the horse works to get released of it and still not really for you. I have decided that working with clickertraining means a lot of fun for both of us. We already know how our relationship is, so I don't have to do groundwork like Parelli to tell Swa thousand times a day that I'm his boss and that when he doesn't react in the right way, doesn't mean that I'm not dominant enough. I want to work in a way Swa does also like, so I've know decided to work the AND way. Something that also helped me making my decision, was trying to do some trick training while Swa and his mate, with who I'm also working, were grazing in a field with lots of grass. So they could chose between my food or the grass. The other pony grazed between almost every exercise, but when Swa found out we could do some trick training, he really wanted to work together with me and didn't look at the grass in the meantime. He even wanted one time to trot with me!
I've always wanted to get a job which has something to do with horses. This year I'm finally starting with reaching my dream. I'm going to do a study about horses and that also means that Swa and I are moving. I have already moved, and hopefully Swa will follow within two weeks. After that, I want to make a fresh start and work more seriously with training goals, AND and Academic dressage. I think that introducing myself and keeping a diary, will help me with going on that way. For a long time I have been in my own horse world, with nobody at the same field, but I have had one day with my class and already noticed that so many people are thinking in another way about horses then I do. I really want to come in a position to help horse owners with treating their horse the right way, helping them with problems and making clear that it is not normal to keep a horse the whole day in a stable etc.
I really appreciate it if you have read the whole story! It took a long time to write this, also because English is not my native language. Sorry for the spelling mistakes.
I would like to end with some nice pictures: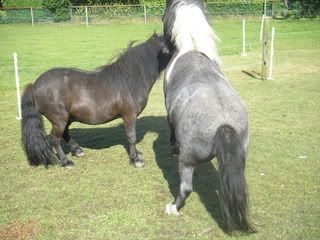 Recently:
The last thing I have to tell you is that Swa means friend, which is a very nice meaning in my opinion. All those years, he has been such a good friend for me, and he will always be.
With love,
Ananja and Swa