Thank you Josepha and Donald for these wonderful words!
Here's a story about Atilla:
Atilla is a halfblood. He is mixed belgian brabant horse. When my friend Lana bought him 6 and a half years ago, he was about to be sold to the slaughter house. So she saved his life. He was afraid of his own shadow because he was beaten by his past drunk owner. You couldn't touch him on his head. He paniced when he saw the whip. She worked with him bit by bit and he gained trust in people again. So he became a school horse. He only worked 1-3 school hours, or none at all. Lana wasn't rich so he had to work a few hours for his food and shelter. But few years ago Lana and I agreed that she could no more take care of him, because she was a professional archer, had married, had a baby and no more time for horse. I took Atilla on my care, and later on, she gave him to me. Since then I searched for various methods on trying to understand his nature, on how to make friends with him, he became my whole world. Nothing on Earth could make me as happy as when I saw him, when I cuddled with him. He was the most sincere, most loving and very best friend I ever had.
Once, when my sister and I were hacking, I fell of a horse I was riding. My sister was riding Atilla and was far behind. She told me (beause I was unconscious) that Atilla started running so fast towards me and stoped right beside me although the other horse ran away to the stable. My sister jumped down from him to help me and left him untied, but he was standing there, not moving. What a horse he was!
We had such a pure friendship without one word spoken. We always felt the same way, we were always there for each other. When he got sick I used to spend whole day with him untill late night hours. He would lay down and put his head into my lap, almost falling asleep. I would encourage him by saying: ''You have to be strong, you're a fighter. Get well and we will bathe in that stream again, I know you love it''. It seemed that he was going well for some time, but one day he just started fainting. He couldn't walk, he was swinging on his legs. That evening we loaded him in a trailer and took him to veterinary clinic. The thing that made me cry was that, although he wasn't able to control himself, when he had to go in the trailer he followed me without any resistance (he didn't even see the trailer for the past 5 years). It was dark outside, and it was an apsolute dark in the trailer, but he followed me in. I cried because I realised that we have acomplished that kind of trust towards each other and at that moment I knew that this horse would follow me trough the fire and the ice. And I always had a complete trust in him too.
Two days later at the clinic he recovered to the relatively normal state. But his illness made him very skinny and weak. I came to visit him every day. My sister and I took him out on pasture so he could stretch his legs. Again it seemed that he was doing well.
I remember the last day before he died. I went out with him and he was so joyful, we ran together, we played, we cuddled, he was sooo happy! I think he tryed his best to show off with that weak body. The next day he was swinging on his legs again. We were let to see him only on short while. He put his head on my chest and was calm. My tears were draining down my cheeks but I still believed in him. Day after he died. I crushed when I saw him lying there on the ground. It was like my whole world was falling apart in that very moment. I huged his still warm body hoping that he will wake up and cried, cried...
It took the veterinarians month and a half to discover what was the disease he died from. It is something that just happens and there is no cure for it. In other words: God's will.
My sister made a video about him with some old pictures (the front line means: to him, who was the best friend ever..., and the last one means: in our hearts - Atilla), here's the link:
http://www.youtube.com/watch?v=IzmfSYqEKwI
These pictures are mixed, some old, then some newer, then some older. My sister is the one riding him. And on some videos we were just fooling around.
Here are some pictures of Atilla:
(he looks like a completely different horse in summer and in witer)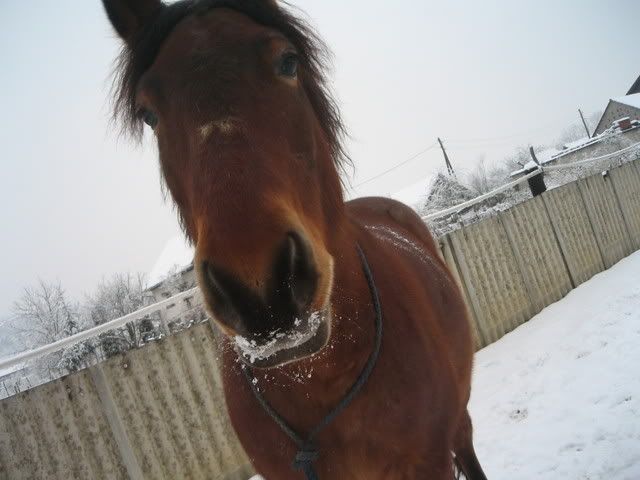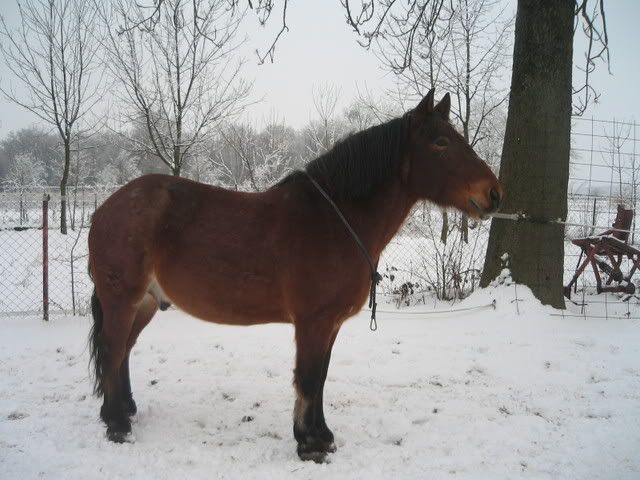 And these are his last days on veterinary clinic:
Poor guy... I loved him so much...