Just wanted to put some pictures up of Storm haveing a visit from the dentist, it went so well, I just couldn't believe it. Nicky the young lass who came out was amazing. She said to keep Storm in the field so he would be near Jason which made me so happy. Nicky has a real calmness about her, and realy has so much empathy for the horse. She said hello to Storm and stroked him, then slowly introduced him to the gag, this was the bit I was dreading, it looks like a medieval torture device!! And we didn't sedate him, which I was so pleased about.
She then slipped the head piece over his ears and then very gently put the gag in his mouth. We were both wondering how he would take to it as he has never ever been bitted, but he has always been fine about me putting my hand in his mouth. Well he never minded one bit, he was as calm as ever, Jason stood next to him enquireing what was going on, Nicky opened the ratchet a couple of clicks, then took it off, talked to him again, and then put it back on, and he was so cool about all of it, when she felt he was ready she started to rasp. He did walk backwards a bit at the begining, which Nicky said was realy important to allow him to move back if he wanted, and she just went with him, then he just chilled and stood while the whole thing was done.........I didn't even hold him, I'm sure he knew it was helping him.
Nicky got me to feel his teeth before rasping, and she showed me that he had got a bit sore on his cheek from the sharp teeth rubbing, and they did feel very sharp. She then got me to feel his teeth afterwards, it was a real eyeopener for me, I've never ventured that deep into my horses mouth before.
So thankyou Nicky, I know your not here, but you were so calm and so sweet, both Storm and I couldn't have asked for more
So here's the proof of my super chilled horse haveing his first rasp,
Nicky trying the gag on for the first time,
Nicky rasping, I wasn't even holding him!!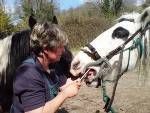 Me getting a feel of his finely rasped teeth.